MILF Pornstar performances never fail to rock the world of porn. What's not to love? Big ass and impressive racks are just what you need to pull through your otherwise mundane day. And adult porn stars are great at fucking their way into the deepest parts of your head. MILFs get hotter with each cock they ride, so compiling a list of the top MILFs was a challenging yet rewarding task. While several of them have made multiple appearances on our previous top MILF lists, you'll find some sexy mature moms we are mentioning for the first time. One thing is sure; they will all blow you away and leave you wanting to grab the nearest willing pussy. Well, that's the idea, isn't it?
Dive in as we explore another list (with one surprise) and honor some of the most orgasmic mature film stars in the history of the adult industry.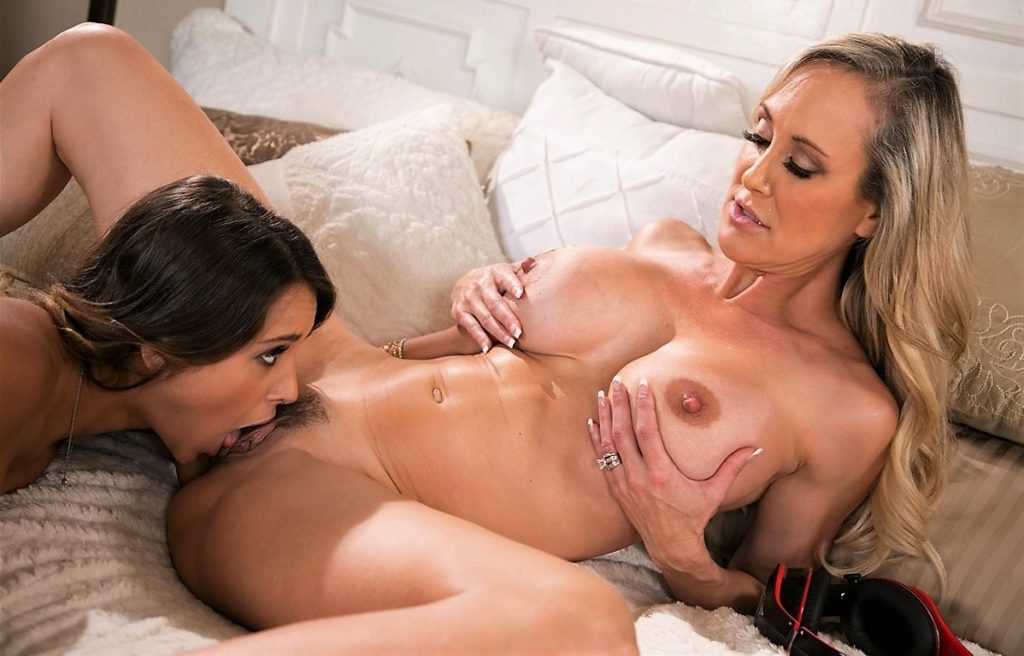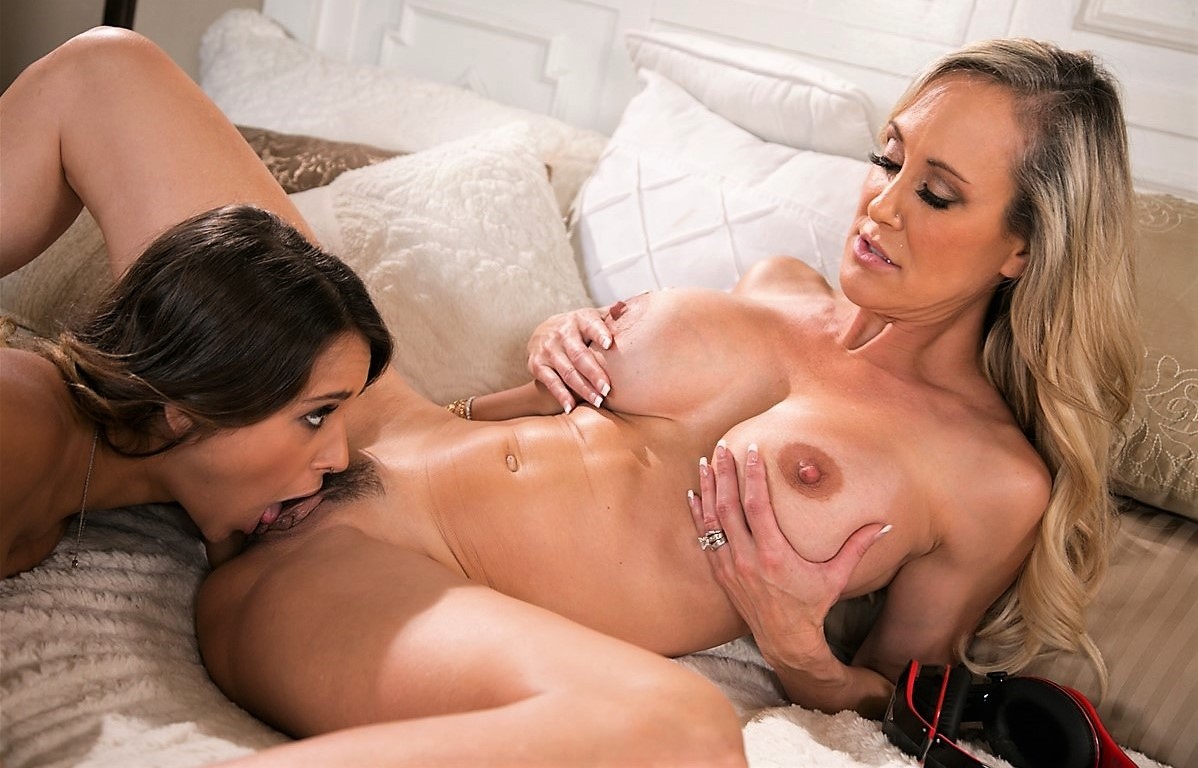 We don't know what the porn industry would be without a talent like hers. We don't want to think about it because she has been around since 2004. And from the look of things, she isn't leaving anytime soon. At thirty-one years of age, Brandi Love started out as a classified MILF and quickly became one of the top favorites. Although she is turned on by young cocks, she doesn't view age as a consequence. She would gladly fuck any man, young or old, just the same way she would gladly take any pussy. Is there anything she won't do? Well, yes. Brandi isn't intent on taking a cock up her ass. Oh well, we can always wank off to high-quality porn videos of her MILF Pornstar pussy getting pounded.
This American brunette brought her kinky side of her into the spotlight in 1990 when Lisa Ann delved into erotic dancing to pay her way through college. It wasn't until three years later that she shot her first porn scene. With an hourglass figure and Double-D breasts that go well with her bubble butt, this MILF goddess will turn you into a cum-swallowing maniac. With such endowment, a sweet personality, and a deep-rooted craving for sex, it is no surprise that she has bagged multiple awards and is a renowned member of AVN, XRCO, and Urban X Halls of Fame.
Born in Los Angeles, California, this American brunette feature dancer and pornographic actress is a top MILF who seamlessly fucks her way to top lists. When Julia Ann joined the adult industry in 1992, she was not new to displaying her sexy body because she started modeling at age eighteen. She stands at 5'7" with an hourglass figure that won't hesitate to drive you insane. Famous for her numerous sex scenes, she has countless AVN and XRCO awards under her belt. So we aren't surprised to find all the top porn studios craving Julia Ann's sensual body on their DVD covers.
When you need a MILF blowjob, Kendra Lust is one mature mom who never disappoints. Is there a true lover of mature sex videos who isn't a member of the Lust Army? That's a 'NO,' of course, because this sexy brunette gives you zero reasons not to want to fuck her. Many women would kill to have a body like hers. And that is no surprise, just the same way it is no surprise that her mature mom pussy can have a straight woman wanting to eat her out all day long like a loyal slave. Although you'll often find her fucking some pussies, young cocks have an appeal the cougar in her can never say no to.
Meet the sexy Cherie DeVille, who shoots approximately 200 scenes per year. You probably think she can't live through a whole day without fucking. And you're right. If she fucks so much on camera, then imagine what this MILF would do off camera. Yup, there are many more sizzling sex scenes we don't get to see, but we can always wank off to the ones she regularly feeds us with. With approximately 400,000,000 views on Pornhub, it goes without saying that this MILF is one of the best you'll ever get to see. Tall, curvaceous, and mature, she has a body perfect for porn and an utterly dirty mind to steal the show.
An impressive rack, a big ass, and professional deep-throating skills alongside unbeatable fucking and sucking skills. That's what you get when you get to see this fun-loving slut on camera. Before her porn career, Phoenix Marie did tons of anal sex in her private life, so she had no problem diving right into anal. She loves being manhandled by a stud or a group of studs drunk in savage lust. There is no cock too big to fit into her mouth, and we have Ramon Nomar to thank for that. His deep-throating lessons were second to none, making a deep-throating beast out of her.
You'll always find this hot MILF fucking and sucking because Ava Addams has a body perfect for porn. Her cup size was augmented to a double D for the pleasure of all porn lovers, so naturally, this brown-eyed brunette has been the name on the lips of porn enthusiasts for over a decade. She never holds back from spreading her legs wide and showing horny studs and hoes what stuff she is made of. She is sure to cum multiple times on camera, and watching her cum is enough incentive for you to shoot out loads of cum until you quiver from sheer pleasure.
This hazel-eyed tattoo-loving beauty will make you cum faster than you ever saw coming. Monique Alexander's a total whore in all aspects of her life. Why else would she keep switching from one hair color to the other? Popular as an auburn-haired MILF Pornstar, Monique is a natural brunette but has been with blonde hair for most of her life. When she tried out auburn, though, it was just perfect for her sluttiness, and the rest is history. Whether she's blonde, brunette, or redhead, Monique's extreme sexual behavior never fails to give her loyal fans more and more reasons to love her.
Originally from Vancouver, British Columbia, Canada, this talented MILF has you at hello. Her beautiful blue eyes are the most amazing you'll ever see. Hence her alter ego, Angel Blue. Since her debut in 2008, she has shot all sorts of scenes. She isn't too excited about anal though, but that's okay because her mature pussy is eager to make up for it. She loves to show off her athletic body before getting down for the main deal. A sucker for all things pleasurable, you'll find this shameless slut fingering her tight pussy anywhere she can. The stunning MILF pornstar Capri Cavanni is one who never goes easy on young cocks. But does she go easy on herself? Not likely, because this cougar masturbates until her pussy quivers with wave after wave of orgasm.
This voluptuous mature mom of German and Irish descent started out with a 36C cup she considered too modest for porn. So, she augmented her breasts to a bold 36E, perfect for porn. After graduating high school, she became an exotic dancer to pay for college expenses. However, she soon switched to the porn industry after suffering a head injury while dancing on stage. And as evident in her energetic scenes, porn is the path for her. This multi-award-winning MILF has appeared on tons of porn websites, garnering a multitude of loyal fans wherever she goes. Sara Jay is still at the top of her game.
If Cory Chase is not your favorite MILF already, she will be. This is her promise to all porn lovers, and the Top Rated MILFs team is rooting for her. Because why not? She's a kinky beast you can't afford to spend your virile life without. Everyone is hungry for some cougar meat, but only the bravest step forward to take it. Don't let her beautiful face fool you, though. This mature mom is a Femdom goddess who will stop at nothing to get the pleasure she deserves, even if she has to gape a thousand wet pussies or pound some stud's ass with a dildo.
A Benz is one hell of a seductive machine. That's why we love it. If an inanimate Benz can wrap you around its fingers, then think of what a human Benz would do. The good news is you didn't have to think much because Nikki Benz is right here. This shapely blonde MILF makes the most of her mature mom body. With a long history of kinkiness, she has always set her sights on the adult industry and has no intentions of walking out. She has starred in a variety of categories and totally has no limits. She's all for hardcore and softcore vaginal sex, anal sex, creampies, double penetrations, gangbangs, solos, and facials.
Think women get less desirable as they get older? Check out this provocative MILF with a million-dollar pussy. This beautiful mother of two blows the scale with her curvaceousness. Aubrey Black's fit body is so hot you'll fall over the edge of your sanity if she strips naked in front of you. She loves experimenting with different hair colors, which is great because she looks good in whatever shade of brown or blonde she settles for. She's a newbie with a two-year-old career as an adult actress, but don't let that fool you. Her expertise runs deeper than the slit of her mature pussy, and that's a lot because her pussy is deep enough to challenge the hugest cocks.
Born on March 17, 1980, in Los Angeles, California, this buxom blonde was named Sarah Lyn Carradine. It was fitting to take a bible name because she was raised in a very religious and conservative family. In her twenties, however, she saw the need to get a badass name because her life was just about to change. Redefining her path, she chose porn—a decision she will be forever proud of because her passionate moans when she fucks young cocks show us just how much she loves being a human sex doll. Keep doing what you do, Katie Morgan. We love you.
A sexy body can take a woman to great lengths, and this slim bombshell shows us just how. With a five foot three inches figure, blue eyes, blonde hair, a whopping 34D pair of breasts, and a mature pussy to complete her jaw-dropping hotness, Nicole Aniston fucks her way into the minds of all porn lovers, old and young. She is excellent at what she does and has a special knack for leaving us hungry for a taste of her sweet orgasm. Petite MILFs are hard to come by, especially one who was born to fuck. Her down-to-earth personality makes her even more appealing.
With no intentions of spending her entire life as a conservative Indian, this brunette MILF first appeared in the porn industry in 2007. It would be utterly selfish to keep a body like hers to herself and her sexual partner, wouldn't it? Priya Rai is no selfish woman, so she dropped out of Arizona State University to pursue a full-time career as an adult model. She did return to school eventually, but not at the expense of her porn career. Lucky for us, as nothing beats the horny slut in her. Nothing makes her as happy as exploring her sexuality and helping others live their dirty sexual fantasies.
When it comes to dirty talking and heavy fucking, this energetic performer will blow you away. Although Gianna Michaels is endowed with many exciting features. She is popularly known for her all-natural 32DD cup. Obviously, that's the first thing most see when you decide to check out her body. Since her debut in 2004, she has shot hundreds of adult scenes for the leading porn studios and an impressive sum for her personal porn site. For someone who didn't watch porn at all before she started to fuck on camera, this blue-eyed brunette sure is one hell of a beast.
Tiny but super busty, this gorgeous and shapely brunette allegedly lost her virginity at an age we can't print! Considering that Brooklyn Chase was painfully shy during her younger days, we can't help but imagine how she built up enough confidence to spread her legs for a hard cock. Although she was still self-conscious when she shot her first adult scene in 2012, hundreds of mature scenes and compilations have brought her out of her shell. Brooklyn gives us all the pleasure we can derive from simply staring at her tight asshole. She shot her first anal sex scene for Brazzers and never fails to impress us with her MILF Pornstar skills, personality, and endowments.

Often tagged as a Latina, this high fetish cougar is an intensely hot mix of French and Jamaican heritage. Isis Love is famous for being a hardcore domination goddess. Her ability to tame young cocks with her pussy power drives her name to the top. Especially when it comes to alternative fetish sites. Think she turns down small cocks because they can't satisfy the slut in her? Well, think again because size doesn't matter to her. She only cares about her sex partner's ability to use what he has. Besides, she wouldn't want to miss a chance to humiliate her sissies with half-length cocks.
240,000,000 profile views on her Pornhub profile speak volumes of how talented this MILF is. Don't let her innocent blue eyes fool you. This busty brunette is utterly filthy when she brings the wild cat in her out in the open. Sophie will not hesitate to devour your cock or pussy. Think being outdoors will force her into decency? Then you really don't know her at all. Because this shameless MILF Pornstar delights in getting her pussy destroyed in public. Sophie Dee joined the porn family in 2005 and is having so much fun that the thought of quitting has never crossed her mind.
Of French and Arab descent, this brunette MILF is known for her natural double D cup size and her raw talent for fucking. Anissa Kate loves getting fucked and facialized by multiple hard cocks and loves getting bound for a pussy splitting gangbang. Her saggy tits and shapely ass are perfect for satisfying your hottest fantasy. She first appeared in porn in the movie: Ultimate French Girls 3 in September 2011. Since then, she has been a super active mature actress, shooting scenes for top studios. Nominated for several AVN and XBIZ awards, this voluptuous slut is the first person to win the AVN Foreign Performer of the Year Award three times.
Alexis fucks so fine! It is no wonder why she's one of the most sought-after actresses in the porn industry. Just as gorgeous as she is talented, this buxom blonde will have you coming to her on all fours for a taste of her delicious fuckholes. Alexis Fawx knows how to put her voluptuous body to use off and on screen. However, we are more interested in what she does on screen because that's the part we get to see. In a feud with age, this mature mom stays fit and cum-inspiring by hitting the gym daily. Regarding sex toys, she has a soft spot for the Hitachi wand but had to put it to rest because she was getting addicted.
Of Latin ancestry, this sexy brunette MILF Pornstar isn't shy in describing herself as a horny slut. Well, that's because that's what Sienna West truly is. She started out as an erotic dancer and became friends with slutty porn stars. That and her passion for big cocks got her into the porn industry as a full-time cum-dumpster. She shot her first scene at age twenty-two and has starred in hundreds of adult movies. Her 34DD breasts are a treasure every porn website wants on their web pages. You will find her shamelessly flaunting her assets on your favorite sites, including Top Rated MILFs!
Leah Gotti – Future MILF Pornstar?
We couldn't help but add a lovely lady who has been on the receiving end of many first-time lesbian MILF seductions. Shapely 5'2" bombshell Leah Gotti debuted in the porn industry in 2015 and is having the best time of her life sucking and fucking hard cocks on camera. She shot her first anal scene for Tushy in the film: Step Sister Tries Anal With Her Bro. Lea started off her porn career with girl/girl scenes but took a giant leap to boy/girl sex after breaking up with her boyfriend. Lesbian scenes came naturally to this horny slut because she knew early on she was into girls! Leah is one adult film star we hope truly makes the transition to MILF stardom once she becomes of "mature age." This sexy vixen is as slutty as a woman can possibly get!
MILF Pornstar Recap
For those who were counting, who would you select as your 25th favorite MILF Pornstar? Remember, there is no right or wrong answer with these beautiful mature women. This is the reason we don't typically number our MILF Porn selections. In any event, let us know how your list compares. What do you think of our teaser for a future MILF update? As always, feel free to send us an old-fashion E-mail or hit us up on Twitter @topratedmilfs. The Top Rated MILFs team thanks all our readers for supporting the adult film industry and content providers by choosing to #PayForYourPorn!