Big Ass MILF is a popular sub-niche within the MILF Porn category. As human beings, we are all affected by beauty in different ways. Some men (and women) are infatuated with big fake tits. While others prefer women with a little "junk in the trunk." There are a couple of things that make a MILF an absolute cougar, and a big ass is undoubtedly at the top of the list. And while having a big ass is one thing, being able to use that ass to the fullest is another. For our readers and porn lovers in general, that is definitely the most important of the two. So take a moment to digest the big ass cougars who make the best 10 MILF top list.
Nikki Delano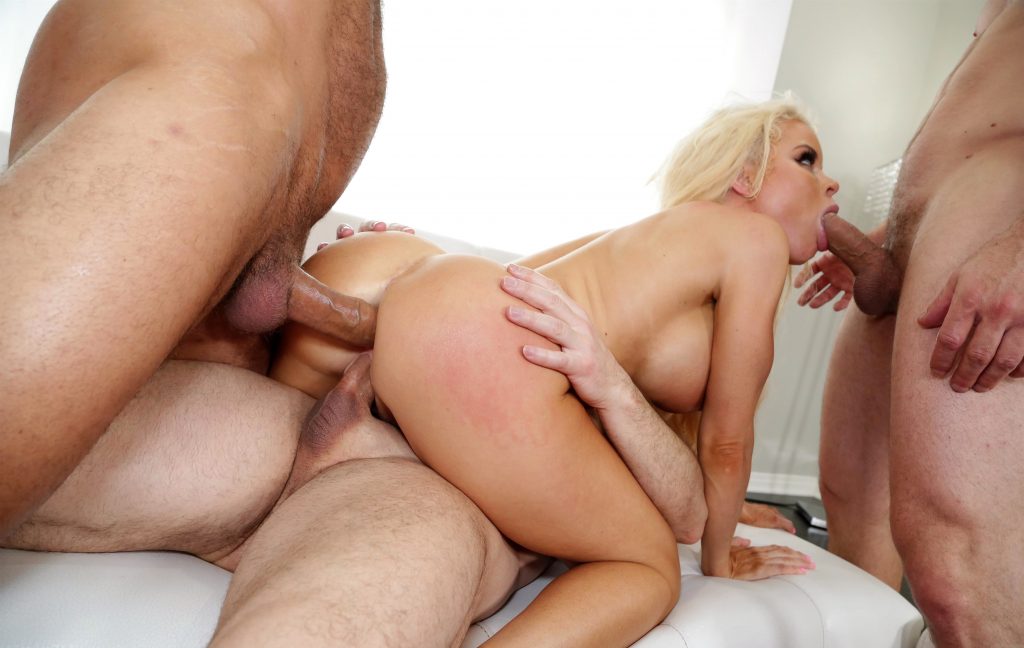 Possessing one of the finest behinds in the history of MILF Porn, this thirty-three-year-old American pornographic actress calls herself, Nikki Delano. After her debut in 2011, her huge ass won her a vast number of fans which she wowed with her first anal in Shopaholic Pussy (2012) for Brazzers, with Johnny Sins. Nikki is that slutty hoe who just wants to grind that ass and get dominated. She's that bouncy ass slut who loves great interracial sex with a huge black cock grinding her tight ass. Whether it's a wet tongue soaking up her ass, or some warm jizz making its way in, Nikki loves to have her ass all wet and ready. Also known for her huge breasts, she starred in No Rest for Big Breasts (2012) for Exquisite. She won the NightMoves Awards for Best Latina Performer in 2012, Best Ass in 2013, and Best Butt in 2014.
Kendra Lust
This top MILF has a hell of an ass you just want to grope and spank. Her bubbly butt has been a fuck machine since 2012. After her debut anal scene with Tushy in 2015, this sensual beauty has offered up her ass to hard cocks like there's no tomorrow. But her anal adventure is a story for another day. Kendra Lust loves being a MILF. Especially one with a bubble butt. Kendra often speaks of how she feels like she didn't reach her personal prime until she was past thirty years old. Well, now that she has, she is ever so proud to show off all she has learned. But not before Kendra shows off that big ass. Don't you just love the way she sticks out that ass and let a huge cock rip its way through her tight walls?
Kim Kardashian
Exotic and flamboyant, Kim Kardashian is known by many to be "Queen of Reality TV." In our humble opinion, her television series might better be classified as "Lack of Reality TV!" Kim Kardashian has been a sex symbol for well over a decade. One look at her bodacious booty and it becomes clear, Kim was blessed with curves galore. While Kim is known for her self-absorbed selfie's, she got her start in front of a much different lens. A sex tape video camera with a famous musician, no less! Yes, Kim got her groove on with a famous rapper while they filmed a hardcore homemade sex tape that "somehow" got leaked to the public. A master of shameless self-promotion, Kim turned her embar"ass"ment into a publicity campaign for the ages. Big Ass MILF Kim Kardashian flaunts what's shes got!
Richelle Ryan
Richelle Ryan is a spicy Italian with a passion for all things sex! Blessed with a bountiful backside, this New York native is the kind of woman that comes along ready-made for the world of porn. Like many in the industry, Richelle started dancing at strip clubs while in college. During her twerking years, Richelle discovered her true sexuality and there was no turning back. Fast forward to July 2006 which saw this petite, voluptuously curved "Heart Breaker" officially enter the adult film business. Hint, if you've ever wanted to know what Richelle's ass tattoo says, please refer to the previous sentence. Richelle's work has impressed both fans and industry professionals alike. Recently, she was duly recognized as one of Elegant Angel's MILF Performers Of The Year 2019!
Olivia Austin
Buxom beauty Olivia Austin entered the adult business in 2015. At nearly 27 years old Olivia wasn't quite ready to assume the role of a MILF, much less a Big Ass MILF! This hot blonde with tits aplenty and an ass to die for is one-stop shopping for your masturbatory dreams. Olivia wasn't originally comfortable with the mature woman MILF roles. Finally, she has finally come to terms with her trademark 38″ big butt. While it's hard (ahem, difficult) to pick a favorite ass flick, Olivia absolutely rocked in Massive Asses 8 from our friends at Elegant Angel. While this article is built around the female posterior, we would be remiss by failing to mention the recent unveiling of the Pornstar Pussy – Olivia Austin courtesy of Pornstar Signature Series Strokers. It's definitely the closest most of us will ever cum to the real thing!
Kissa Sins
There is no denying Kissa Sins has got a sinfully hot fuckable body. Know what makes her so damn irresistible? That ass! While being all natural with zero enhancements, she's got an ass that places her in competition with enhanced asses. With an ass like that, she's caught tons of eyes, and of course, amassed a multitude of fans. If you know Kissa Sins well enough, then you should know how much she's into MILF Bondage and overall Kink. In fact, she excels at Fit to Be Tied, BDSM, and Bondage MILF Porn. Her name goes ahead of her to speak of how great a kisser she is. However, those sexy lips are not the only place she wants to be kissed. Kissa's husband, fellow pornstar Johnny Sins is definitely one lucky man!
Cali Carter
It's true what they say about Californian girls. They're undeniable, fine, fresh and fierce. Especially when the girl in question is a blue-eyed tattooed doll with the stage name Cali Carter. Cute, slim and sexy, this blonde MILF is the perfect sex doll. Her big ass makes her even more sensual. With a body like hers, she's every man's sexual fantasy. Born in 1990 in Sacramento, California, she discovered her spark in porn at the age of twenty-three. Now six years later, this big ass MILF is still ever so sensual. Her ass always holds the promise of some great anal drilling. Fierce in bed, with an infectious personality that makes her stand out as one of the most popular hardcore porn stars. Cali has a thing for brutal face fucks and extreme gangbangs. This highly bisexual big ass MILF licks pussy just as hard as she sucks cock.
Osa Lovely
Dark-skinned pornstar, Osa Lovely, is best known for her interracial and lesbian scenes in the adult films. Fucking Two Pussies With One Bone (2017), Zebra Girls 2 (2011), Cum Bang 2 (2010), Pussyman's Mocha Honeyz Orgy 3 (2008), Chocolate Sorority Sistas 3 and (2009), Girls Greasin' Girls 2 (2008) among others. More to that, her bubble butt fetched her some memorable roles in the ass-themed films: Booty Call 6, Black Ass Master 4, Booty Juice 12, and Black Booty Worship 3. This delicious piece of hot chocolate loves to show off her massive ebony ass and get drilled from the rear by her ever-willing male talent. She loves getting her face all sprayed with cum. She has been an active adult film since 2008 and has her eyes set on becoming an action hero someday.
Jennifer Lopez
OK, MILF Porn purists, we get it. The Top Rated MILFS team was totally on the fence when it came to including this Latina Megastar amongst such hardcore performers. While Jennifer Lopez does not possess the necessary pornstar portfolio or Kim K sex tape, how can one ignore the signature Latina curvy hips and those nicely proportioned pointy nipples? Even if the majority of the time on-screen it was allegedly an equally endowed body double. Truth be told, some of JLo's best skin has been some side boob witnessed on late night television talk shows and red carpet extravaganzas. Unfortunately, the closest most of will ever come to authentic Jennifer Lopez nakedness is via our favorite celebrity nude site Mr. Skin. Thank you, JLO, for gracing us with your amazing ass. Please feel free to show more of your beautiful curves!
Mellanie Monroe
When you think of a woman so hot you want to get cozy between her legs. Ample-ass MILF Melanie Monroe must slip into your mind. She entered the porn industry in 2009, at the MILFY age of thirty-two. Mellanie never holds back from that utilizing that fine ass in the sluttiest ways possible. With blue eyes, fake tits and an overwhelming desire to fuck and be fucked, she's found the perfect profession! Plus, she becoming one of the top MILFs in the porn industry. Tall, blonde and beautiful, she knows her way around every cock and pussy. Truth be told she probably could sniff out a hard cock with her eyes closed. Want a big ass MILF who's down for hardcore sex, lesbian sex, threesomes, some fierce deep-throating, group sex, and of course, anal sex? Melannie Monroe possesses all of that and more in her impressive on-screen resume!
Big Ass MILF Recap
The Top Rated MILFS™ team takes great pride in compiling niche porn specific lists that provoke both candid conversation and worthwhile erections! In reality, there is only one perfect list out there and that is in the personal opinion of each and every Big Ass MILF lover out there. The aforementioned list of big booty females is not meant to exclude any well-deserving mature pornstar. The point is that each list such as the one just read must be able to stand constructive debate that will continue to fuel the MILF Porn genre. As always, please feel free to stay in touch via Twitter or email. Thank you for your continued support or our site and sponsors!